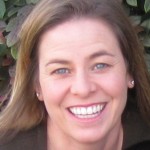 I'm a writer, researcher, former preschool teacher assistant, and occasional lifeguard.  I'm also the mom of an adorable and very vigorous kid.
When my son's swimming lessons weren't going well, I decided to pull all those pieces of my background together and teach him myself. When I do something, I'm all about overkill, so I read dozens of books, interviewed experts, and practiced on my son and other kids. Today, you probably know my son as…Michael Phelps. Just kidding! My kid isn't an Olympic athlete, but he's water safe. He knows how to swim, and I taught him myself.
I grew up near the ocean in southern California and still live near the water in the San Francisco Bay Area. I love swimming in the surf, body surfing, and boogie boarding, but I don't like doing laps or getting into cold water. If you're interested in getting all of the information in this blog in one place, send me a message about getting the book.
Thanks for reading!
Karen